Introducing
WKFI-MT12/16 is an auto-focusing, auto-calibration, contactless fiber end-face interferometer developed independently by Wekon technology. It adopts the principle of white light and red light interference to restore the geometry of the fiber end-face and calculate the technical parameters accurately. It is your best choice and ideal partner for measuring MPO/MTP connectors, while compatible with single-core connectors such as FC, SC, ST, LC, MU, etc.
Powerful measuringfunction
It uses high-end optical microscope system and ultra-clear high-speed camera, can measure the 12X core or 16X core MPO/MTP connector. The maximum measurement is up to 72 cores, which can help you measure the products applied in 200G or 400G in the future.
Automatic focus, automatic recognition of face type of end-face
The advanced and efficient auto-focus module can automatically identify the face type of end-face and scan it from the best position. Without any hardware adjustment, the measurement can be completed.
Perfect 3D image
It is easy to grasp the fiber profile and 3D image at any position by dragging the mouse, which is convenient for the user to understand the polishing situation of the end-face of the product directly and carry out process improvement.
Stable and high-speed data transmission
The fixed USB 3.0 interface greatly improves the stability and seismic performance of the test, and has stable and high-speed data transmission in all cases.
Abundant chuck
The precise PIN positioning is adopted to ensure that the measurement of each plug does not need to re-focus, which greatly improves the test efficiency and has high reproducibility.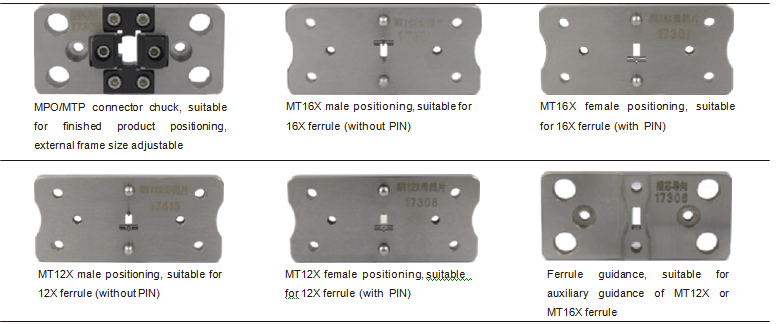 Complete data and reporting
One-click operation can automatically generate measurement data and reports, which is convenient for users to file and manage.
Performance indicators
Item

Scope

Repeatability

Reproducibility

Multi-core mode

Ferrule radius (mm)

3~∞

1%

3%

Ferrule angle (°)

0 or 8

±0.01

±0.02

Fiber height (μm)

0~8

±0.015

±0.025

Speed (sec)




MT-12 with about 10s




Single-core mode

Radius of Curvature (mm)

3~∞

±0.01

±0.02

Fiber height (nm)

-160~+160

±1.0

±2.0

Apex offset (μm)

0~500

±0.5

±1.5

APC Angle (°)

0~8

±0.01

±0.02

Speed (sec)




0.4s




Magnification

2X

Resolution

2.6μm

Light

Red & white LED

Power

220V 50Hz