Smarter, lighter and more efficient Fully automatic focusing design Super high image resolution Support 200 times, 400 times magnification
Humanized integrated design
Combined with ergonomic design, direct vision to the end-face image, making detection and control, image observation faster and more comfortable.
Super high image resolution
Select high quality components, increase the function of positive/negative image conversion, highlight the ultrafine scratches, and show more real end-face details.

Multiple product test function
It is equipped with a variety of high-precision adapter interfaces, which can easily meet the testing requirements of various single and multi-core fiber end-face, TOSA/ROSA components and FA.

Manual type and automatic type are available
Automatic focus adopts high efficiency algorithm, which can guarantee that every time the fiber is inserted, it will be in the clearest state, and saves the tedious manual focus.
Complete image input, output and storage functions
Support various output functions such as USB external handheld detector input, USB output computer and BNC extended connection, which can easily meet various management requirements.

Multiple application scenarios
The device is small and light which is easy to move, equipped with high-density lithium battery, endurance up to 7h. It is easy to respond to power outage, outdoor and other emergency work.
Unique battery box, storage bin design
Battery box and storage bin can store all kinds of chucks and accessories, making the instrument maintenance and management more easily.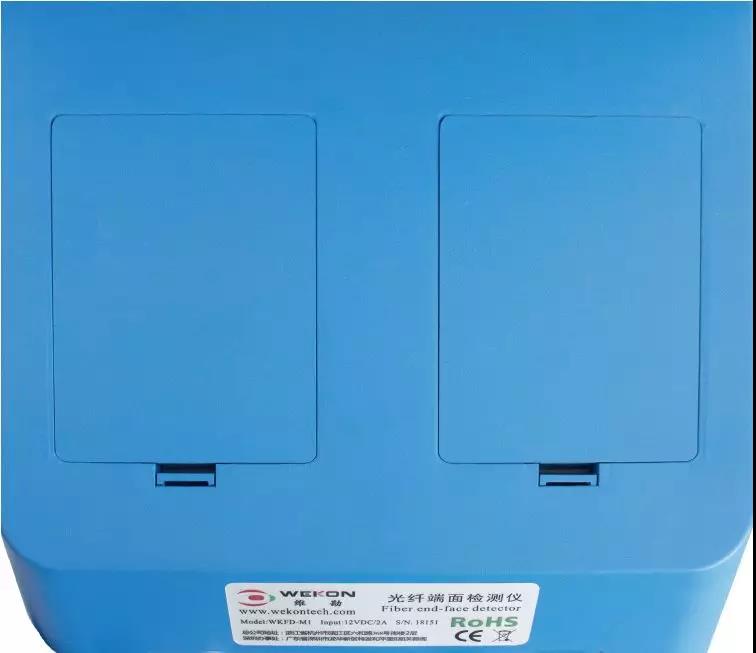 CE/CEM ,ROHS certification
Safe and humanized anti-static design can eliminate the damage of the device caused by human static electricity and meet the anti-static requirements of enterprise.
Performance parameters
| | |
| --- | --- |
| Magnification | 200X、400X |
| Resolution | 0.75μm,0.5μm |
| Image size | 40mm,80mm |
| End-face detection function | SC,LC, FC, MPO, TOSA, ROSA, FA,etc. |
| Sensor | Black and white CCD600 line |
| Port | Handheld probe input port, BNC output port |
| Extension interface | USB2.0, SD memory card |
| Adjustable range | X axis 3.8mm,Y axis 4.5mm |
| Screen | 8 inch (4:3), 1024 * 768 px |
| Power supply | 12V power adapter |